Jaw-Dropping
Comedy Magic

for Fairs & Festivals!

Whether performing hilarious magic on the main stage, teaching a magic workshop, or roving with Harvey The Rabbit, Clinton W. Gray delivers jaw-dropping moments at your festival with high energy performances that draw huge crowds!
HARVEY THE ROVING RABBIT
Strolling Illusion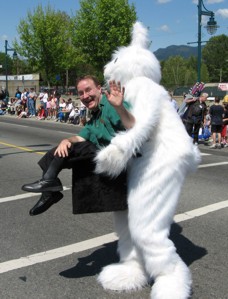 Harvey the Roving Rabbit is Clinton's strolling character illusion! Imagine a giant, eight-foot rabbit that walks throughout your festival carrying a huge magician's top hat with Clinton in it... yes, the rabbit is pulling the magician from the top hat. From the hat Clinton entertains with "On-the-Spot" magic and balloon sculpture. Unique, interactive entertainment perfect for:
exhibit buildings
a parade
lineups to other events
throughout the festival site
before/after stage shows
in food & beverage areas
Harvey the Roving Rabbit is Strolling Entertainment at its finest!
TOP Δ
FOOLED!
Stage Show
The flagship show that started it all.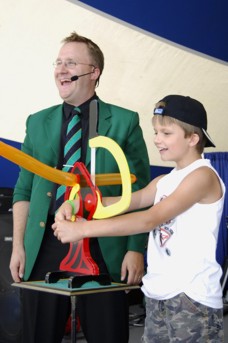 FOOLED! is a full stage act which blends magic, music and mayhem into a high-energy, interactive comedy show. This family-friendly (but not childish) show can play to a crowd of 500 or more, but can easily be scaled down for smaller audiences. This show features many of the routines that have earned Clinton five international performance awards; unbelievable entertainment pieces that have taken him around the world including:
Where did the Balloon Go?: You'll be holding your sides in pain with laughter, as Clinton attempts his version of a sword-swallowing!
Cowboy Card Trick: An amazing comedy piece originally developed and performed for the World-Famous Calgary stampede... now you can see it at your festival!
Totally Hooped: The classic linking rings, performed with giant hula hoops. This act was featured at multiple performances during the 2010 Winter Olympics... it was so well received Clinton now includes it in all his shows!
Two distinct shows can be presented in a day, with different routines in each show. Unbelievable illusion plus hysterical comedy and audience participation combine to create world class family entertainment.
TOP Δ
THE MAGIC BOOTH
Close-up Show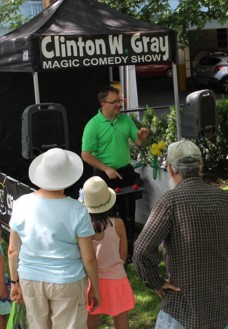 First introduced in 2014, The Magic Booth has been a huge hit at fairs and festivals. Working in an all black custom-designed tent, Clinton performs up-close and personal "mini-shows" for small groups, gathering the crowd in a manner reminiscent of the old-time carnival barker. Visit the Magic Booth and you will experience:
Mind-boggling Card Manipulation
Money Magic
Free Balloon Sculptures
Kreskin-like Mind-reading
Con Man Games
Infamous Svengali Pitch
If the kids (and their parents!) miss the stage shows or roving rabbit, they can be sure to catch Clinton at The Magic Booth!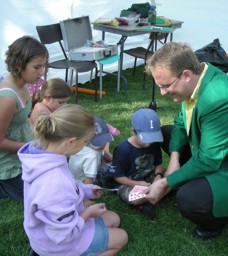 Fun-2-B-Fooled
Magic Workshop
This INTERNATIONALLY acclaimed - award winning workshop - introduces kids (and parents!) to the ART OF STREET MAGIC, made popular by the television specials of David Blaine. Originally designed as a program for a New York arts camp, Clinton has FINALLY released this program to the general public... and you can have it at your festival! Using a hands-on approach, apprentice sorcerers will have the unique opportunity to take a peak into the secret life of a magician. They will learn how to:
Tie knots by MAGIC!
RESTORE a cut rope!
Move inanimate objects!
Perform escapes!
Defy GRAVITY!
Link solid rings!
All the props are provided during the workshop and many of the illusion use simple everyday items that are found around the home.
TOP Δ